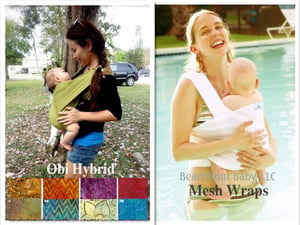 $

37.99
WHAT IS A MESH WRAP BABY CARRIER?
These sport & water wrap baby carriers are a must have for the summer and hot climates! 100% polyester jersey lends breath-ability with just the right amount of stretch.
The fabric feels like a lightweight, silky swimsuit which keeps it light in the water & dries very quickly. Wear baby in the shower, at the beach, at the water-park or in the pool.
This especially comes in handy for keeping your hands free to play with or help older children in the water! Great for showering with a slippery baby! Can even be used as a sporty, everyday wrap!
Tie it on your stroller or baby carseat for use a breathable yet viewable sun shade or creatively use as a lightweight, breathable, viewable nursing cover.
Choose from the color options in the Drop Down Menu below.
~~~~~~~~~~~~~~~~~~~~~~~~~~~~~~
WHAT IS AN OBI HYBRID BABY CARRIER?
These are light weight, no tie, no fuss, hands free baby carriers that distribute baby's weight across the wearer's shoulders and back. The generously sized knit panels (which fold compactly back into themselves for compact storage into the diaper bag) create a cozy pocket for baby and helps to maintain the pike knees-above-bum seated position. Especially perfect for newborn babies who require being carried in the froggy position.
Because of the simplistic design of this carrier it is great for running errands or for a nice walk, and most importantly the ideal carrier for dads who do not want to hassle with long straps, buckles or rings!
The Hybrid allows baby to be worn on the front, facing in or out. It is optimally used to hold children up to 25 pounds, but has been strength tested with children up to 30 pounds.
PLEASE SPECIFY IN ORDERING NOTES WHAT SIZE YOU WOULD LIKE YOUR CUSTOM HYBRID TO BE MADE IN...
Simply tell us your "FITTED" T-shirt size... The design of the carrier makes it like your favorite shirt or pair of jeans. Fresh out of the wash they are a lot tighter. The knit will become more lax with use, but no worries! Just toss it in the wash (any temp wash and dry! EASY!) and it will "shrink" right back to it's original size. You can also twist the front panels to take up the slack when washing immediately is not an option. Or simply choose a smaller size to account for the extra stretch over time. Your fabric color selection will be coordinated with a similar knit color.
Choose print options in the Drop Down Menu below.