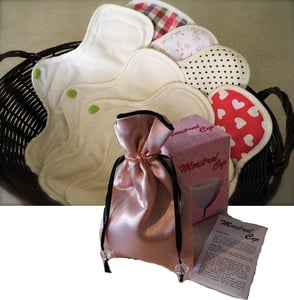 $

25.00
An ECO alternative to Tampons and Menstrual Pads that are washable and reusable.
Cycle Cups: made of 100% medical grade silicone.
Choose size 1 (pre-birth/ light flow) or size 2 (post birth/ heavy flow) from our drop down menu.
Cycle Cup Colors: Pink and Purple available in both sizes.
Cycle Cloth: made of 100% unbleached cotton (outer) and water proof (inner).
Available in a $25 set of 1 Mini, 1 Regular & 1 Large. *SOLD OUT ON PRINTS*
Recommended 2-3 sets for duration of Menstrual Cycle.