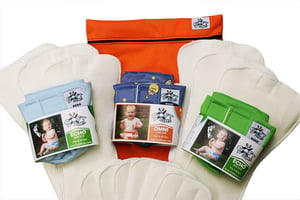 $

99.95
The Only "ONE SIZE" Super Trim High Quality Diapering System on the Market... Now comes in an economical starter kit. This package eliminates all the guess work with purchasing cloth diapers and offers an even simpler alternative from other starter kits that include buying a bunch of random diapers, prefolds, covers etc.
This Kit includes some of Sofbums Newest Super 2-in-1 Pods! If you haven't tried out this innovative wick away Pod yet, this is a great opportunity to try before making a substantial investment.
The Super 2-in-1 Pod is TWO Pods In ONE!! You get a ONE-SIZE Pod, plus an extra Mini/Small Pod that Snaps on the back! That means it's a SUPER absorbent OS Pod for an older baby/heavywetter, or night time. PLUS, unsnapped, it's 2 uber trim Pods for Newborn up to about 2 months.
Package Contents:
* 1 Omni Shell
* 2 Echo Shells
* 6 Pack of One-Size 2-in-1 SUPER DryTouch Pods
* 1 Zippered Wetbag
* COMPLETE HOW-TO PAMPHLET
With the choice of the following:
*Snaps, or Velcro Closure Type
*Boy/Gender Neutral, OR, Girly colors
~Colors will be RANDOM~
(CHOOSE IN DROP DOWN MENU)
Buy 2-3 Kits for a whole day or more worth of cloth diapering for much less than most other cloth diapering kits. And that's all you need! --no more hours of researching and browsing. This kit/ this brand was designed so your precious time is utilized on more precious things.
Total retail value of Starter Kit: $125.59 MSRP: $109.95 NOW REDUCED to $99.95 and Ships for FREE In the US and it's Territories.
GET YOUR KIT TODAY!
WANT TO ORDER JUST A FEW SOFTBUMS with the FREE SHIPPING DEAL... Contact us at gaiaecosolutions@gmail.com
SoftBums Features:
SoftBums Patent Pending Slide²Size is the ONLY variable adjustment of it's kind. Fits all leg widths from 4" - 14" for NO red marks EVER and Made IN THE USA! The SoftBums Echo is ultra trim AI2/Cover and the Amazing SoftBums Omni is a 2-in-1 Pocket Diaper that makes for a diverse diapering system working as a pocket, cover, or AI2. Thanks to the Softbums Slide²Size Technology cloth diapers fit perfectly from Newborn to Potty training; with options for industrial strength velcro closures that are long lasting and won't "wear out" like other velcro or from convenient snaps. Cloth diapers from Softbums saves even more money, space, and resources.